ImPat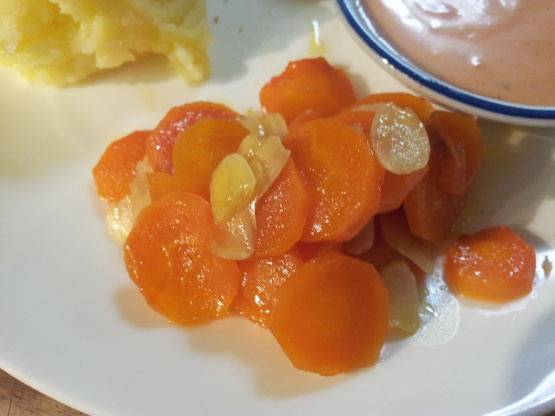 My cousin brought this dish to Thanksgiving Dinner. I loved it & had to have the recipe.

This was a very simple recipe to make, which is definitely a plus!! The dish turned out a little to sweet for me. My husband on the other hand loved it. Next time I might just cut down on the honey so that they aren't as sweet. Thanks for the recipe!!
Cook the carrots in water, covered, for about 8 minutes. (I used frozen sliced carrots & followed the directions on the package.) Drain the carrots.
Put the butter, honey, lemon juice & ginger in a microwavable bowl. Microwave for 30 seconds, then stir. Continue until all butter is melted and all ingredients are combined.
Put the carrots into a 1 1/2 to 2 quart greased dish. Pour the sauce over the carrots & stir. (May refrigerate at this point for baking later.).
Bake, uncovered, at 375 degrees for 30 minutes, stirring every 10 minutes.
Sprinkle almonds over carrots just before serving.