Carrots and Rutabagas With Lemon and Honey
Boomette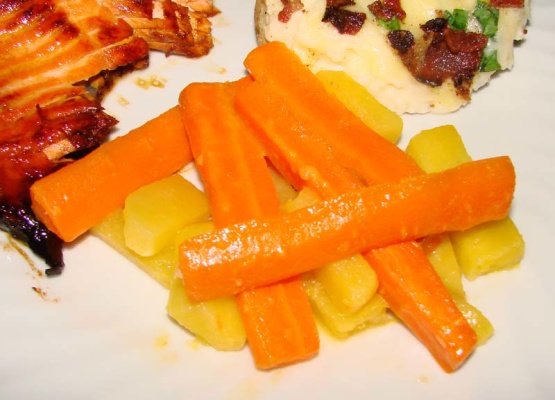 I got this recipe from our paper. It has a noticeable taste of honey.

I just had this for dinner today, made by Cornell University Dining. It was soo good, that I had to ask for the recipe. It turns out to be the same as this one. The only difference is that there is only 1 tbsp of butter and 1/3 cup of chives and the servings is listed as 8. It was so refreshing and a wonderful break to writing an essay on global food security.
Cook rutabaga in large pot of boiling water 2 minutes.
Add carrots and cook until vegetables are tender, about 6 minutes; drain.
Melt butter in large saucepan over medium-high heat and add lemon juice, honey and lemon peel; bring to a boil.
Add vegetables and cook until glazed, stirring occasionally, about 6 minutes.
Season with salt and pepper, remove from heat, and mix in fresh chives.