3 Reviews
I was really interested in this recipe because I love carrots and dill. I actually used cottage cheese for this recipe because I didn't have any ricotta. I enjoyed the timbale, but think I would have liked it better if I kept the carrot pieces whole instead of pureed. Everything pureed together made it quite sweet. The dill in here made the recipe, and it sure did look very pretty in the ramkin cups! My mom and dad thouroughly enjoyed this. Thanks!

This was really good. I made it as a side for meatloaf. Very easy. Made for ZWT3 Zingo.
Healthful in the extreme, but tasty too. I did add salt and pepper to taste with fresh dill of course, but otherwise it was perfect! Sweet carrots with cheesy ricotta. I cooked longer because I have paranoia about undercooked eggs of any kind:D I recommend spraying dish (I used a flat 9" pie dish instead of ramekins which I don't own, and cut into fours) with non-stick cooking spray for ease of clean up. Otherwise, I had no complaints, just praises for this great recipe!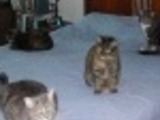 Carrot Timbale