Carrot Soup With Basil Pesto Swirl
Sageca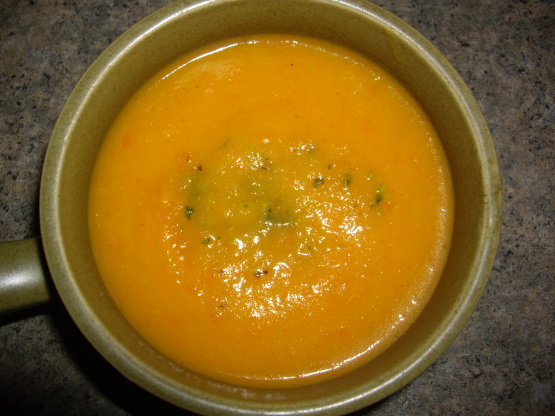 A recipe I found in Canadian Living with a couple of personal preferances. Pesto adds pizzazz to this classic fall soup and is a great way to use up the last of the basil from the garden. When your pesto is already made and in the freezer, this makes it so much faster to prepare.

I gave 5 stars, because it is a delicious basic carrot soup. I would add more curry next time if I didn't have pesto. I wanted to freeze this soup, so made pesto and added it to the whole pot of soup. This way I am not defrosting both and fussing. If I were keeping it for company, I would not do this, as the carrot soup is a gorgeous color without the pesto stirred in. Thanks for the recipe!
Basil Pesto: In food processor, finely chop together basil, Parmesan cheese, pine nuts, salt and pepper.
With motor running, add oil in thin steady stream. (Make-ahead: Refrigerate in airtight container for up to 3 days or freeze.).
In Dutch oven, heat oil over medium heat; fry onion, shallot, carrots, potato, garlic, salt, pepper and curry powder stirring occasionally, until softened and golden, about 10 minutes.
Add chicken broth and bring to boil.
Cover, reduce heat and simmer to blend flavours, about 40 minutes.
Ad nutmeg. Let cool slightly.
Using immersion blender or in batches in blender, puré soup until smooth. Add water to thin if desired.
(Make-ahead: Let cool for 30 minutes. Refrigerate, uncovered, in airtight container until cold. Cover and refrigerate for up to 2 days.
When ready to serve; reheat. Ladle into bowls; swirl 1 tsp pesto into each.