Demandy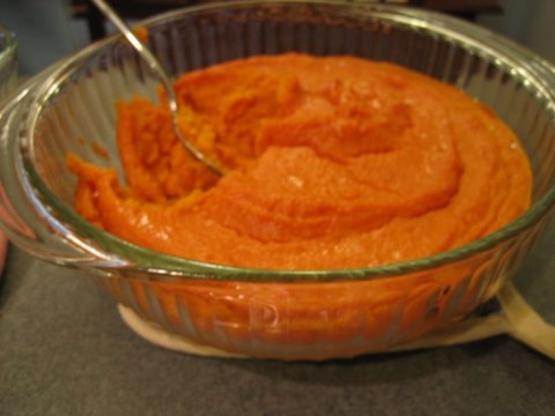 This recipe is delicious! I make it for every holiday and sometimes just for a colorful and delicious side dish during the week, just because we love it! Even those who don't normally like carrots really liked this souffle, and kids love it, too. It's a great alternate to sweet potato casserole; plus, it's super easy to prepare! I strongly suggest not adding any of type of "pumpkin pie" spices, etc. to this dish as it will really alter the outcome. This comes straight from Cooking Light with no alterations - it doesn't need any!

Delicious, nutritious, fairly low calorie, attractive, great texture. My husband and I were very pleased.

I want to add an update, that you can make this ahead of time and even reheated it is still delicious! The word "souffle" made me concerned it would flop if I made it ahead of time, but not so.
Preheat oven to 350.
Cook carrots until tender and drain.
Process carrot in food processor until nice and smooth.
Add sugar and next 7 ingredients (sugar through eggs) and pulse to combine.
Coat a 2-quart baking dish with cooking spray and spoon in mixture.
Bake for 40 minutes or until puffed and set.
Sprinkle with powdered sugar, and serve immediately.