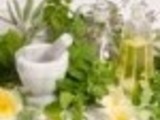 This is always popular and the pine nuts add a little surprise to make it Italian.
Directions
Grate the carrots; set aside.
Plump the raisins by zapping them in the microwave for 3 minutes in 1/2 Cup water. Drain and add to grated carrots; add pine nuts.
Blend remaining ingredients till smooth. Pour over carrot-raisin mixture.
Cover and refrigerate.
Most Helpful
Great side dish!! Loved the pine nuts and raisins in this salad!! The dressing is also very tasty!! Thanks Sage! :)