Annie H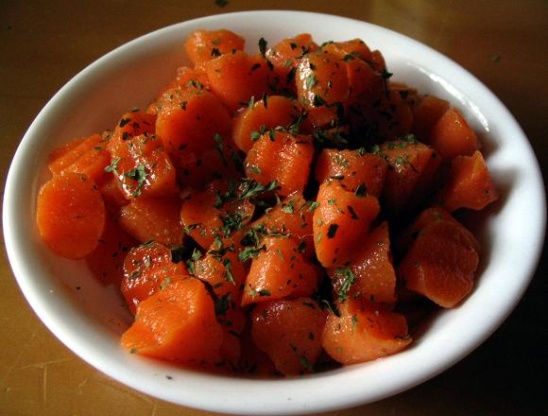 A recipe from Paula Wolfert's book, Moroccan Cuisine. This is similar to carrot salads we had in Zagora, in the south of Morocco, if slightly more acidic. For my taste, I would cut back on the lemon but I have reproduced the recipe here as it is written in the book.

YUM. My husband dislikes sweet carrot dishes so I was looking for an interesting, savory way to fix carrots. This was perfect. I added 1/2 teaspoon coriander and cut back on the paprika, since I only had hot paprika and was afraid of overkill. Unfortunately I didn't have any fresh lemons around, so I used about one and a half tablespoons of bottled lemon juice. But it tasted great. Thank you!
Boil the carrots whole in water, wtih the garlic, until just barely tender.
Drain and discard the garlic.
Dice or slice the carrots.
Mix the spices and lemon juice with the sugar.
Pour over the carrots.
Chill.
Add salt to taste and sprinkle with a bit of olive oil and parsley before serving.
When I was in Morocco the chefs always added a bit of extra cumin on top as well.