Elodie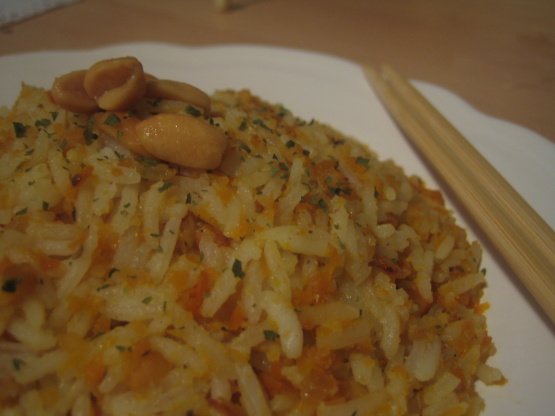 This is an unbelievably flavourful rice recipe that almost seems a little too yummy for so few calories! I found this recice on a newsgroup, trimmed and vegetarian-ised it, and thought I'd share it with everyone here! It can easily be veganised with a suitable butter substitute.

This recipe is wonderful! I have made it twice and my husband made a variation of it once when we had no onion. He decided to add pineapple to the recipe which was okay, but nowhere near as good as the original recipe. The onion makes it great!
Combine rice and water in a medium saucepan.
Bring to a boil over high heat.
Reduce heat to low, cover with lid, and allow to steam until tender/cooked (about 20 minutes).
While rice is cooking, pulverize peanuts in a blender and set aside.
Melt butter in a large skillet over medium-high heat.
Saute onions until golden brown.
Stir in ginger, carrots, and salt to taste.
Reduce heat to low and cover to steam 5 minutes.
Stir in pepper and peanuts.
When rice is done, add it to the skillet and stir gently to combine with other ingredients.
Garnish with chopped cilantro and serve hot.