Annacia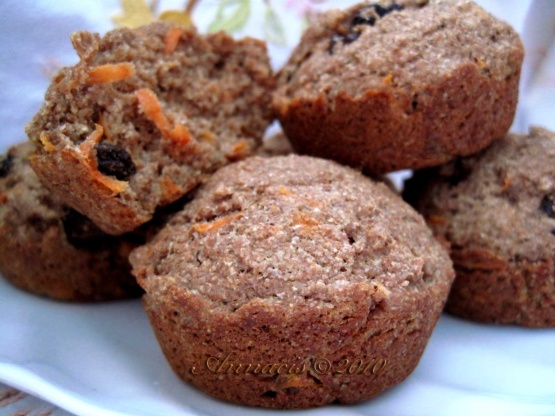 These yummy bars are made with wholesome ingredients including grated carrots, raisins, honey and yogurt. They're delicious daytime or after-school snacks. You can pack this nourishing treat for lunch also. This recipe can be made into muffins too - use an ice-cream scoop to measure batter into greased or paper-lined muffin cups. ENJOY!!

Those Carrot Raisin Bars are delicious. I made them with Buttermilk instead of yogurt. They dissapeared real fast.I have made those several times. Nice and moist.
Preheat oven to 375°F Grease or line a 9x13-inch baking dish with parchment paper.
Combine bran, flour, carrots, brown sugar, raisins, baking powder, cinnamon, baking soda, nutmeg and salt in a large bowl,.
Whisk yogurt, honey, oil and egg in a separate bowl. Add these ingredients to flour mixture. Stir well to combine. Batter will be thick.
Place batter into prepared pan. Bake in preheated oven 20-25 minutes or until a toothpick inserted in the center comes out clean. Cut into 18 bars.
If you are making muffins, bake at 375F, for 18-20 minutes, or until a toothpick inserted in the center of the muffin comes out clean.