Mary K.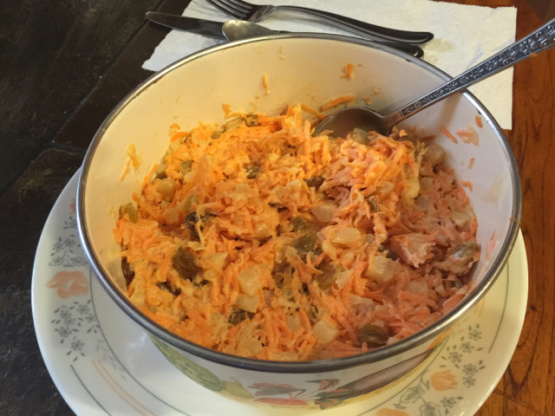 This recipe is from Luby's Cafeteria. DH loves this!

For as long as I can remember, this salad has always been an automatic choice when I wanted a LUBY FIX & went there to eat. I always felt so saintly bypassing all their lovely desserts in favor of this sweet treat & I still do that ea time I am in Tulsa to visit family & friends. I halved the recipe for 3 of us on the occasion of the birthday of my MIL, used the drained pineapple juice to plump the raisins & served as part of her favorite meal - leg of lamb. DH & MIL loved it! Thx for sharing this recipe w/us.
Shred carrots using a large hole grater or food processor.
In a large bowl, comine the shredded carrots, raisins and pineapple.
In a small bowl, mix the mayonnaise and powdered sugar until well blended, pour over carrot mixture and toss lightly to coat.
Cover and refrigerate at least 2 hours.