Vraklis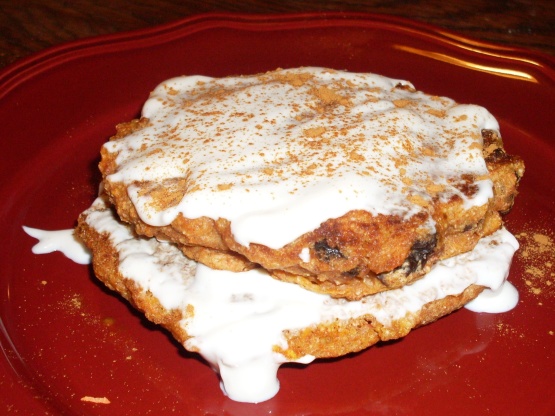 I always try to make meals as "healthy" as possible for my 1 and a half year old daughter. So, for breakfasts I've played around with ideas for pancakes. I decided to be adventurous and add carrots. Your first reaction might be "gross!" But it actually tastes rather good. My daughter loves them and eats them up.

Oh yes.....Used olive oil for the oil...brown sugar for sugar...1/2 tsp cinnamon, 1/2 tsp vanilla, 1/2 tsp allspice, 1/4 tsp nutmeg....These are most excellent....These are going to college with my son, with homemade syrup that I made with brown sugar, water, vanilla extract....NO High Fructose corn syrup for us...These will be made as a staple pancake in our house.....Thank you, Thank you......
In a bowl, mix together the dry ingredients [flour, sugar, b. powder, salt.].
Mix in the milk, egg, and applesauce.
Put raw, uncooked carrots in a food processor until very fine.
Stir the carrots in with the batter.
Spray your griddle or frying pan with cooking spray, then heat to 375 or medium heat.
Use 1/4 cup to measure out your pancakes. Cook pancakes until bubbly on top, then flip over until the other side is also cooked and golden.