Vegfaery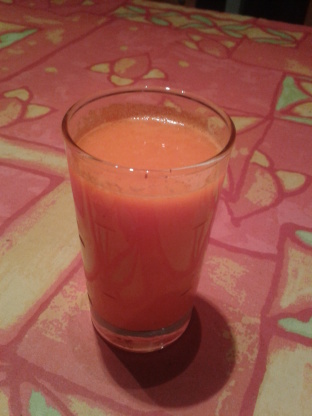 I found this recipe on the Reader's Digest web site and I'm posting it for ZWT 7. This immune-boosting antioxidant cocktail supplies all your vitamin A for the day and more than half your requirement for vitamin C. If you don't have a blender or food processor, you can still whip up this beverage with a wire whisk in a deep bowl.

YUMMY! I just threw everything in the juicer and out came a bright and refreshing combination that we enjoyed with our breakfast. The touch to ginger really tops this. I used 2 navel oranges and 6 carrots for the juice, plus the ginger - it made 2 (8-oz) glasses with ice! Will make this again Dreamer - thanks for posting! Made for ZWT7 AFRICA and the HOT PINK LADIES!
Mix carrot juice and orange juice together in a bowl.
Crush the ginger in garlic press to fill 1/2 teaspoon.
Stir crushed ginger into juice mixture and serve. (If making ahead, stir before serving.).