Carrot, Leek and Turnip Saute
Derf2440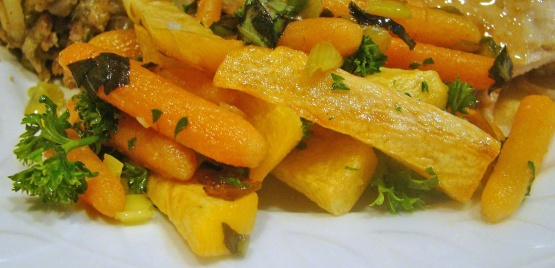 Wonderful comfort food. A healthy side dish and a great alternative to potatoes. Love the color! Use your largest skillet, the volume of veggies will cook down, but it helps to start with a little room in the pan. You can also experiment with the amount of butter and olive oil. I plan on cutting it back to 1 Tablespoon of each when I make it next, I don't think anyone will notice. I'm not sure where this recipe originated, in general, if I try it at Mom's house and take the recipe home, I just refer to it as "Mom's carrot, leek, and turnip saute".

A nice veggie combination but the timing is off, the leeks were cooked but the carrots and turnip were quite underdone. We did like the combination of flavours and the basil was perfect for it, if I try it again I will work it out so the turnip and carrots go in first and cook longer and add the leek later. Thanks for posting.
Melt olive oil and butter in a large skillet over medium-low heat.
Stir in leeks, turnips, and carrots. Cook one minute then salt to taste. Cover. Cook on medium low heat for another 5 minutes, stirring occassionally.
Uncover and continue cooking for 25 minutes. Vegetables will reduce and soften quite a bit.
Reduce heat to low and continue to cook for 5 minutes.
Remove from heat and stir in parsley, basil (or tarragon).
Serve warm. Great reheated.