awalde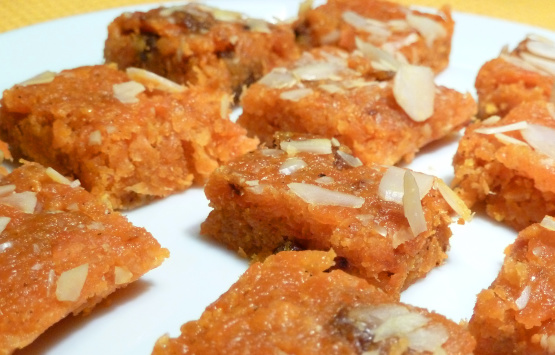 This rich and satisfying Indian sweet is simple to prepare, though it does take time and patience for the carrots to cook gently as you stir so that the correct consistency is achieved.

Definitely a new kind of treat for me, but then I do enjoy the ol' carrot, so . . . Made these to share at a potluck a couple of weeks ago, then forgot to review them! You have a wonderful recipe here, & I followed it right on down! Everyone at the potluck enjoyed them, & I have plans to make them again before the end of the month! Many thanks for sharing the recipe! [Tagged & made in Please Review My Recipe]
1

lb carrot, finely grated
1 1⁄2 cups whole milk
1⁄2 condensed milk (7.5% fat)
3⁄4 cup sugar
1⁄4 cup raisins
1⁄4 teaspoon ground cardamom

1

pinch ground cloves
1⁄2 teaspoon vanilla sugar (optional)
1⁄4 cup sliced almonds (preferably toasted)
Place the carrots and both milk in a pan and bring to boil, stirring constantly. Reduce heat to medium and continue to cook, stirring often, until liquid disappears, about 25 minutes. As the halva cooks down you must stir more and more frequently to prevent it from burning.
Add sugar, raisins, cardamom, cloves and the ghee (or butter). Continue to cook, stirring frequently, and scraping the bottom of the pan to prevent the mixture from sticking.
Cook until the halva is very thick and forms a ball in the center of the pan as it is stirred, about 20-25 minutes.
Turn the halva mixture out onto a greased 9-inch square baking dish, smoothing out the paste to an even thickness.
Arrange the almonds on top, pressing them into the halva slightly.
Score the top of the halva into rectangles, then cover and chill until firm. Cut completely the halva into triangles to serve.