Bergy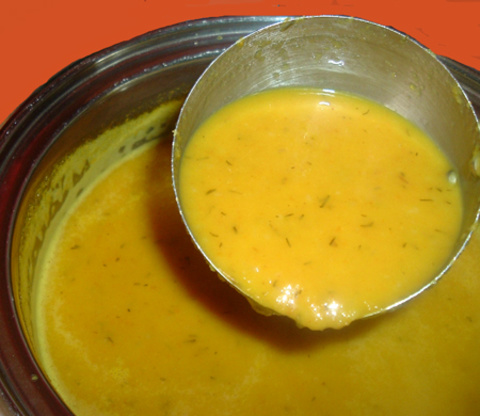 I found this recipe for a beautiful and tasty soup made with pureed carrots and fresh dill at allrecipes.com, and was so blown away by it's taste that I just HAD to post it here. Warm garlic bread makes the perfect accompaniment for this velvet-textured, heartwarming soup. Enjoy!

Made this tonight for myself and my 9 year old daughter. We loved it! It was a beautiful bright orange color and full of flavor. I am always looking for low cal meals. Thanks for posting this yummy soup.
Bring a large saucepan of water to a boil.
Add carrots, and cook just until tender.
Drain, return the carrots to the pan and Set aside.
Heat oil in a skillet over medium heat.
Saute onion and garlic until soft, about 5 minutes.
Transfer the onion and garlic to the saucepan with the carrots, and pour in water/vegetable stock/chicken stock.
Turn heat to medium-low, cover and simmer for 25 minutes to blend flavors.
Puree the carrot mixture in a food processor or blender, in small batches if necessary.
Return to the saucepan, and stir in the milk, dill and chives.
Cook just until heated through, and serve immediately.