Carrot, Cranberry and Walnut Salad
Debbwl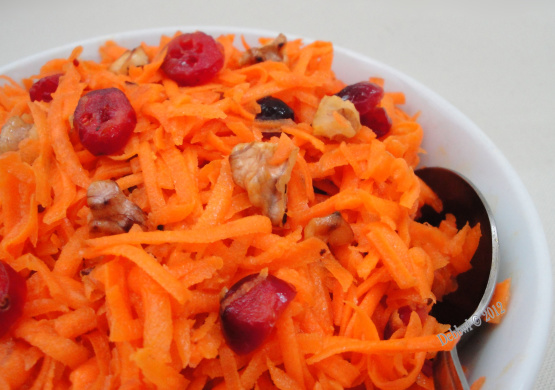 From The Gadsden Times online edition -- Mary Lucile Jordan's Wednesday Column, December 19, 2007 -- Ms. Jordan is the County Extension Coordinator of the Etowah County office of the Alabama Cooperative Extension System. NOTE: One (1) hour chill time is the cook time!

We absolutely LOVED this ~ I must admit, I used pecans instead of walnuts (personal preference) but it certainly did not detract from the light fresh flavor. A new family favorite, especially for DH who loves his carrot salad :) Thanks KuW ~ made for PAC FALL 2009!
Soak cranberries in very warm water for 30 minutes ~ drain well.
Lightly toast walnuts in a nonstick saute pan over medium heat, stirring until they begin to color and the aroma becomes apparent. Immediately remove from the pan ~ set aside ~ TO BE ADDED JUST BEFORE SERVING!
In a large bowl, combine carrots and olive oil ~ toss lightly to coat. Add remaining ingredients (EXCEPT WALNUTS)and mix well.
Chill at least 1 hour.
Add toasted walnuts just before serving.
Makes 6 servings.