nleewebb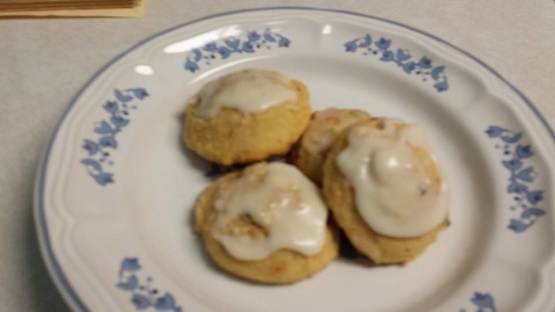 Best Carrot Cookies EVER! Kids won''t know they are Carrot Cookies because the orange is the dominant flavor. Soooo good!
1

cup carrot, peel and thinly sliced. Cover and cook in microwave for 3 minutes, place in blender &, puree
1⁄2 cup shortening
1⁄2 cup butter, softened
3⁄4 cup sugar

1

egg
2 1⁄2 cups sifted flour

2

teaspoons baking powder
1⁄2 teaspoon salt

1

teaspoon orange juice

2

teaspoons grated orange peel

1

cup chopped nuts (optional)
1⁄2 cup confectioners' sugar, more if you like a stiffer icing
Cream shortening, soft butter and sugar.
Add egg and pureed carrots. Beat well.
Add orange juice and orange peel.
Sift dry ingredients and add as mixer on low speed.
Add nuts.
Can cover and refrigerate before baking.
Drop by teaspoon on greased baking sheet. Bake at 375 degree oven for 10 minutes.
Place cookie sheet on cooling rack for 5 minutes.
Remove cookies to another cooling rack, until cool to touch.
Make icing from remaining orange juice, rind and confectioners sugar. I like to 'glaze' cookies, rather than 'ice' them. Let sit on drying rack for 1 hour. Place in covered container to store.