milliwuu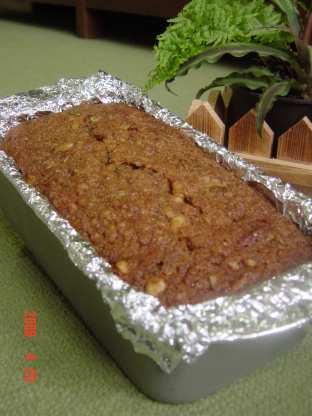 This is another coffee cake recipe from Bonnie Stern's cooking school in Toronto. I like it plain but you could frost it with cream cheese icing!

You really can't go wrong with a Bonnie Stern recipe, and I didn't on this one. Very nice cake, delicately spiced with a tender crumb. I could eat this every day with my coffee and be very, very happy. I liked the addition of the pineapple.
Beat eggs with sugar in a large bowl until very light.
Beat in oil.
In another large bowl, combine or sift flour with baking powder, soda,cinnamon, nutmeg& allspice.
Stir flour mixture into egg mixture just until combined.
Stir in carrots, raisins& pineapple.
Spoon into a buttered 8 inch (2 litre) loaf pan, lined with parchment paper- or use a tube pan.
Bake in a preheated 350F oven for 50- 60 minutes or until a cake tester comes out clean.
Cool for 10 minutes before removing from the pan.