Carrot Casserole for Two (Comfort Food Veggies)
ImPat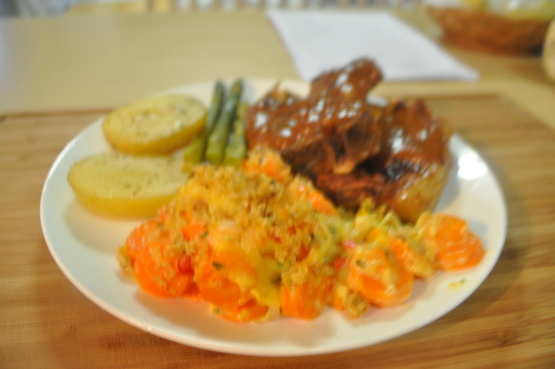 I have been posting some recipes i want to try from TOH and that are for two people. This looks like a yummy dish, side for 2-3 or main meal for one. Easily increased as well.

I really like the onion and peppers in this. DS wanted more breadcrumbs on it. Oh yes, I added the jalapenos which gave it just a little kick. Love this recipe! Made for *1 2 3 Hit Wonders* game 2007
place 1 inch of water in a small saucepan. Add carrots, bring to a boil then simmer until crisp tender. drain and set aside.
In a small skillet, saute green peppers and onions in tbs of butter til tender. stir in flour, salt and pepper until smooth. Gradually add milk whisking to stop lumps. Bring to a boil, cook and stir 2 minutes until thickened.
Stir in jalapeno, parsley, savory and carrots. Transfer to a 2 cup baking dish coated with non stick spray.
In small pan, melt remaining butter add breadcrumbs. Cook and stir until toasted. Sprinkle over casserole. Bake uncovered at 350 for 15-20 minutes until bubbling.