Carrot Cake With Cream Cheese Icing
gertc96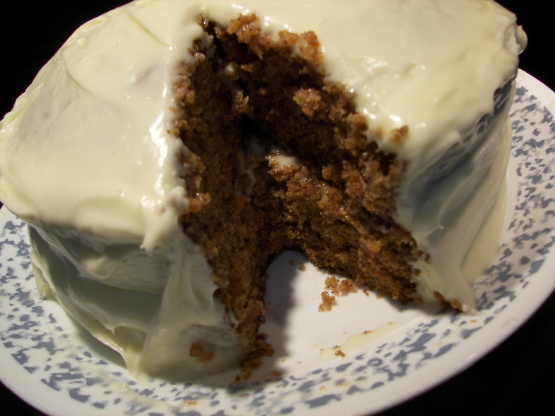 Another Suzie Cheesedoodle gem.

Just what I was looking for. Very simple and easy to make recipe. I halved it because its pretty much just me that likes carrot cake. Worked out great. Thanks so much Made for 123 hits
Mix the sugar, flour, baking soda and cinnamon.
Beat the oil, eggs, vanilla and salt together until they are well blended.
Combine the dry ingredients, oil and egg mixture and grated carrots just until they are mixed.
Pour the batter into two 10" round pans greased with butter.
Bake in 325 oven for one hour.
Remove it from the oven, let cool and remove from the pans.
Cream Cheese Icing.
1 large pkg. Of cream cheese at room temperature.
1/2 cups sweet butter at room temperature.
3 1/2 cups icing sugar
1 tsp pure vanilla.
1 tbsp orange juice.
Mix all the ingredients and ice the cake, using some icing between the two layers.
Garnish the cake with cinnamon and walnut halves.