Boomette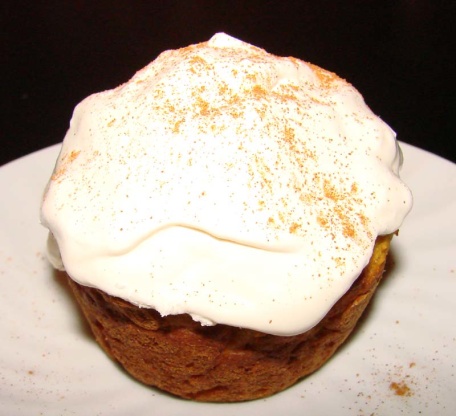 These muffins make a yummy little snack, that are slightly healthy. I use all organic ingredients, to make them that much better for me and my kids. They are really nice topped with cream cheese icing.
I used Canola Oil. And I think that 1 cup of flour was not enough. So I used 2 cups of all purpose flour. With 2 cups, it was the texture of muffin dough. I didn't use raisins and pecans. I preheated the oven at 350 F (is it the good temperature cause it's not written). And after 25 minutes, my muffins were cooked. I added dry ingredients to wet ingredients. I garnished with Cool Whip and cinnamon. Thanks :)
Preheat oven to 350°F.
Put carrots and apple sauce in to food processor, mix until it has the consistency of baby food. Set aside.
Sift all dry ingredients together.
Stir oil, eggs, and carrot mixture together until well blended.
Add wet ingredients to dry ingredients, fold gently until blended.
Add raisins and nuts mix gently. (Be careful not to over mix, or the muffins will be rubbery).
Pour into well greased muffin tins, bake 20-25 minutes or until toothpick come out clean.
Cool completely then top with icing if desired.