Prep 45 mins
Cook 50 mins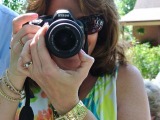 This is one of the few recipes my husband every requested from a coworker and brought home for me to make.
Directions
Beat together the eggs, oil, and white sugar. Blend mixture for thirty seconds.
Sift together flour, baking powder, baking soda, salt and spices. Add the carrots and raisins.
Pour egg mixture into dry ingredients, and mix well. Pour batter into well greased 10 inch tube or Bundt pan.
Bake at 350 degrees F (175 degrees C) oven for 45 to 50 minutes. Cool cake on wire rack, and then refrigerate until completely cooled.
To make Cream Cheese Glaze: Blend together confectioners' sugar, cream cheese, corn syrup, and vanilla. Spread over cooled cake.
Reviews
Most Helpful
I made this according to the recipe, with no substitutions. The cake tested done and looked beautiful out of the oven, but it turned out much too moist for us. It's almost a pudding. I think this is a factor of the comparatively large amount of oil in the batter. Out of curiosity, I checked out some other carrot cake recipes on Zaar, and found that some popular cakes have an even greater proportion of oil. These cakes have been praised by their reviewers as being moist. So I guess it's just us. The cake also didn't seem to be spicy enough. I think this is just proof that we are all different. Thank you for giving me a chance to define my preferences.

this recipe works time and time again perfectly for me, i often make a double recipe, mixed together in a giant bowl, half it by eye for baking then freeze the 2nd one. i drop the oil quantity a little if i'm trying to be healthy
This is me again, just to say that muffins will NOT work with this dough. Mine have just came out of the oven - completely flat, at places burnt and they don't smell very nice. Oh dear. It looks like the dough has been too watery, maybe I should have added flour. I think the proportions had to be changed but being a beginner at baking I don't really know how and what to change. Luckily I still have some dough left so I'm going to use it to make a small cake. Coz yesterday's cake already gone! I give your recipe 5 stars because the cake is even tastier the day after and it freezes well (but how long can I keep it in the freezer?). Thank you!