Ashley Cuoco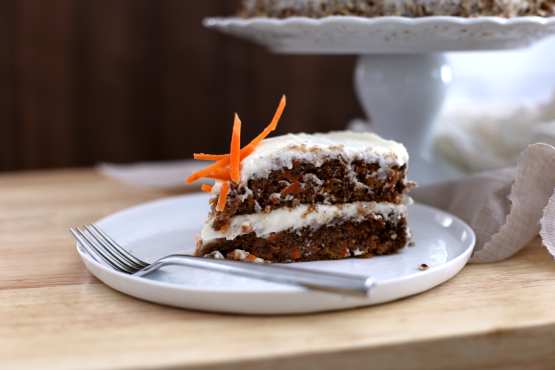 I won a Blue Ribbon for this cake in 1986 at the Ohio State Fair.

thank you!!! moist and tasty. my family loves it:-)...however i read the reviews after making one and found that by adding nutmeg, clove and replacing half a cup of oil for apple sauce it was the best carrot cake ever!!!...oh i also threw in a hand full of raisins.
one proplem i have is that once cut the layers slide of to side which spoils the look!!! but not the taste......any tips for making it stay together.
Beat oil and sugar, then add eggs.
Add and mix the rest of the cake ingredients in the order given Beat for 1 minute.
Pour into 3 9-inch cake pans.
Bake at 350°F for 35 minutes.
Icing: Mix butter and cream cheese together until smooth, then add sugar a little at a time.
Beat until smooth.