pammyowl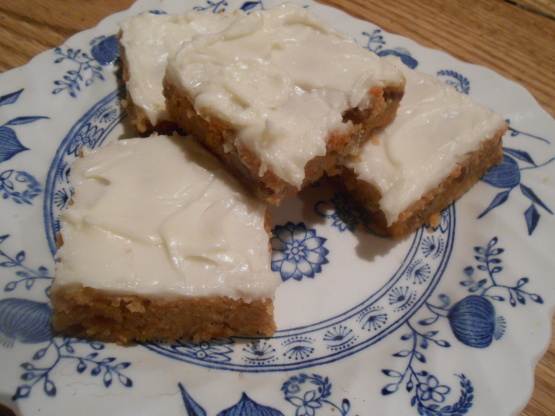 These yummy treats are great for potlucks and family gatherings!

YUM! I made these using Splenda for the sugar and Splenda/cornstarch mix for the powered sugar. The cream cheese was 95% fat free so I was able to enjoy these little gems with a smile. It's been on the short side of forever since I have had carrot cake (DH won't eat it and I just don't like to make a big cake for me because I'll just eat it, D'oh!. Anyway, I just couldn't resist this recipe but I've been good. I had to eat one to write the review :D. Two are in the fridge and the rest are wrapped separately and in the freezer where they will be safe. I did use less sugar (Splenda) than ask for by about a quarter and I found that amount to be spot on for me. Thanks loof for a marvelous treat that I'll be enjoying now and down the road.
Cream sugar and oil. Add 1 teaspoon vanilla and eggs and beat well.
Add flour, cinnamon, baking soda, and salt and mix well. Fold in carrots and nuts.
Pour batter in a greased 9x13 inch baking pan. Bake at 350 degrees for 25 minutes. Cool completely.
Beat margarine, cream cheese, vanilla, and confectioners sugar until creamy. Spread on cooled bars.