Carrot-Apple Slaw With Cranberries & Pumpkin Seeds
GaylaJ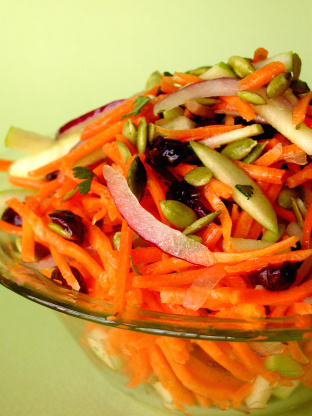 This is a fantastic, heart-healthy alternative to mayonnaise-based slaws and makes a fresh, colorful side. Recipe adapted from "Delicious Living", a publication distributed by our local health food store.

This was a yummy salad with great flavours and textures. Next time I make this, I will use mnt rather than cilantro. I love cilantro, but feel mint would go better with the other ingredients. I'd also like a little salt and lemon or lime juice too.
Combine dried cranberries and 1/4 cup orange juice in a small bowl; set aside.
In a large bowl, toss apple with remaining 1/4 cup orance juice. Mix in carrots, red onion, cilantro, and pumpkin seeds.
Drain cranberries, reserving juice; add cranberries to apple-carrot mixture.
Whisk reserved orange juice and olive oil; pour over slaw and toss well. Season to taste with black pepper.
Serve cold or at room temperature.