PanNan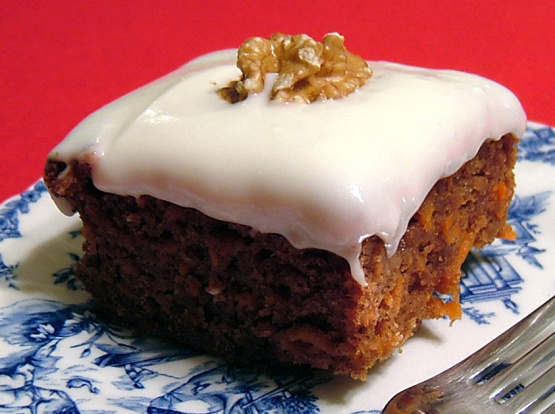 This is a great pick-me-up snack cake with rich cream cheese frosting. Moist and delicious, perfect for anytime!
Preheat oven to 350*F and grease and flour a 9x9 inch baking pan.
Mix together flour, cinnamon, baking soda and salt in a large bowl.
In another bowl, whisk together oil, sugars and eggs until well combined.
Gradually stir dry ingredients into wet ingredients, until thoroughly mixed.
Stir in grated carrots and apples until just combined and pour into baking pan.
Bake for 30-35 minutes or until tests done in the center with a butter knife.
Cool for 5 minutes then take out of pan to cool completely on a wire rack.
For frosting, mix cream cheese and butter in a large bowl with a wooden spoon.
Stir in lemon juice and vanilla then gradually start adding the confectioners' sugar until blended.
Beat with an electric mixer to get frosting smooth, then frost top and sides of cooled cake.
Cut into squares and serve, garnish with walnut halves and grated lemon peel, if desired.