Carrot and Golden Raisin (Sultana) Salad
Jubes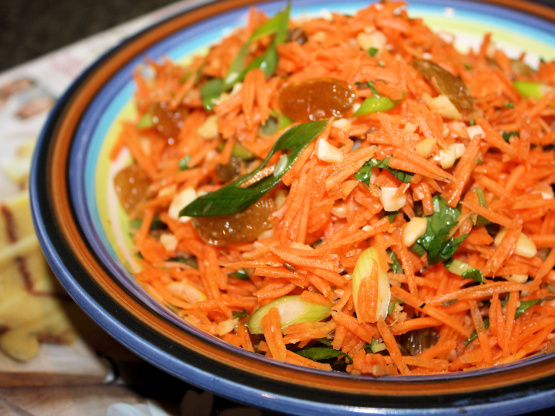 I came up with this as a side for a fish curry we ate last night. I have a hand held tool that shreds carrots in long strips. You could just grate the carrot if you don't have the same. I'm in a remote area so used dried mint, feel free to use fresh as I would if I could get it!

*Made for Australia/NZ Swap #79*This was REALLY good ! This was my mom's favorite salad in the 50's -- only made w/carrots, raisins, and Miracle Whip ---I hated it !! The seasonings were just perfect, even though I had to use ginger in a squeeze tube --- gave a nice zingy, zip ! I'll be serving ths often. Thanks for posting, Jan !
Mix the first 4 ingredients together.
Mix the dressing ingredients together then toss through the carrots and refrigerate about half an hour to let the flavours come together.