CindiJ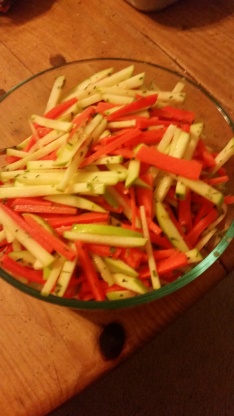 A fabulous recipe from Lidia Bastianich. I love to serve this with fish, chicken, pork...in a leaf of bib lettuce or on its own, it's delicious!! Cook time is chill time (make ahead the store in the fridge covered till ready to serve).
Peel and julienne carrots, then julienne the apples (leave skin on). Place in large glass bowl.
Zest the orange over the carrot and apple mixture.
Juice the orange over the mixture and add olive oil.
Add the salt and pepper.
Toss and serve cold.