Carrot and Almond Soup (Vegan)
awalde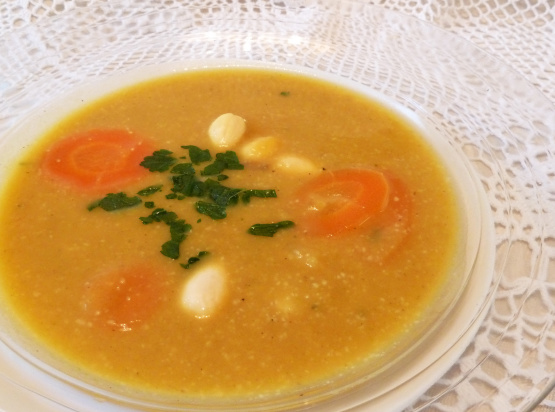 This is a creamy, comforting vegan soup from Dr. Gillian McKeith's You Are What You Eat Cookbook. She says, "Carrots are a source of anti-ageing antioxidants, while almonds are a powerhouse of nutrients, including magnesium, which is important for supporting adrenal function. Low levels of magnesium have been associated with nervous tension, so almonds are a natural stress buster." She also suggests subbing a sweet potato for two of the carrots for a change.
Place the onions, garlic, carrots, and celery in a large saucepan. Add 1.25 litres boiling water and the bouillon powder. Bring to a boil and add the herb stalks.
Lower the heat and simmer for 30 minutes until vegetables are tender when pierced with a knife.
Remover from the heat and allow to cool slightly. Strain, reserving the stock. Remove the herb stalks, then blend the vegetables in a food processor or with a hand-held blender until smooth.
Return the mixture to the pan and add the ground almonds and enough of the reserved stock to make a soup-like consistency.
Re-heat, then divide between warmed soup bowls and serve garnished with fresh cilantro and parsley.