CarrolJ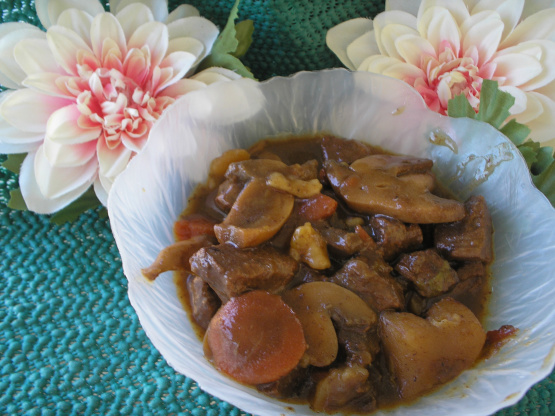 This makes a meaty and rich beef stew. There is one ingredient which is very unusual in beef stew...the small amount of cabbage. It is there for flavor...and most likely no one will even notice it is there if you chop it very fine. Don't leave it out and you will be surprised at how good it is! Serve with fresh French or Italian bread.
Season the beef cubes with the 1 teaspoon of salt and 1 teaspoon of pepper.
Brown the meat in the olive oil at medium high heat then turn the temperature down and simmer for about 15 minutes.
Add the mushrooms & juice, diced onion, sliced carrots, diced potatoes, sliced celery, chopped cabbage, soup base, 1/2 teaspoon salt, 1/2 teaspoon black pepper, Kitchen Bouquet and 1 quart of water.
Cook until the vegetables and meat are tender.
Mix the 2 tablespoons of flour, and MSG into the 1/4 cup cold water into a small bowl, mixing well.
Simmer while stirring continually as the stew thickens.
Serve.