Carribean Bean & Corn Salsa
the_dish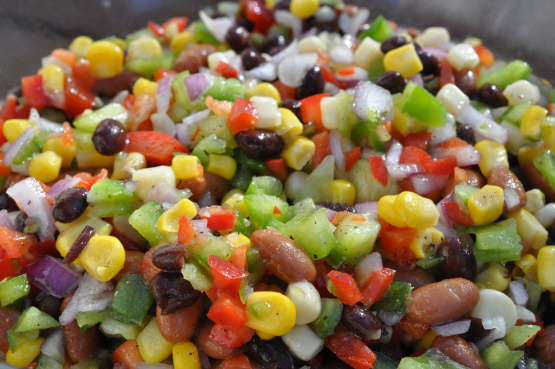 This dish is amazingly addictive for something so healthy! I make it as an appetizer for potluck, parties, cookouts, and other get togethers. People always ask me for the recipe.

Made this for a BBQ with friends and family. Everyone raved that it was the best salsa they had ever tasted.At one point everyone had stopped socializing and were all around the bowl digging in! My husband actually asked that I not use my old recipe anymore and stick to this one. It was fresh, tasty, easy to make and healthy. Really a perfect salsa.
1) In a pot combine oil, vinegar, and sugar.
2) Bring to boil to melt sugar, then cool.
3) Drain and rinse the cans of beans and corn in a large mixing bowl.
4) Mix the diced vegetables together with the beans and corn.
5) Pour cooled liquid over and refrigerate at least 2 hours.
6) Drain to serve. Serve with tortilla scoops.