Carrabba's Spicy Sicilian Chicken Soup
Johncn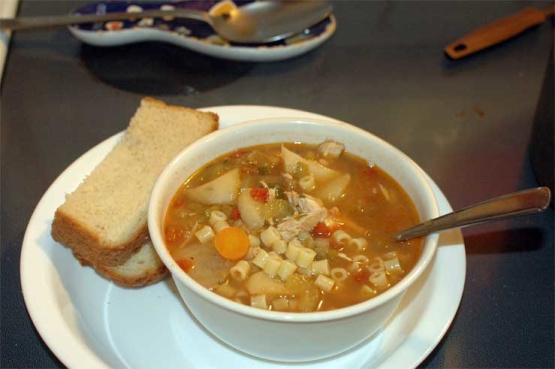 I tried three of the available recipes for this Carrabba's chicken soup dish - usually called "Mamma Mandola's Sicillian Chicken Soup" - and was not quite getting the results I wanted. I'm NOT a cook, and live literally thousands of miles away from the nearest Carrabba's restaurant, so I had to improvise a little on the three recipes I found. I am quite happy with the results, though, and it's the closest I've made to this recipe. It is also a big batch, but I figured if I was spending an afternoon making soup, I should have some to freeze. I have used a 20 quart stockpot for this recipe (ideal), and a 16 quart (just barely fits) stockpot. Note: I do not have a local grocery store, so had to substitute some ingredients that you many not have to....but it worked for me. ;-)

Top Review by pvink
I am not easily impressed with soups. I was IMPRESSED with this recipe. It is SOUPER yummy with lots of flavor and very spicy. I will definitely put this recipe in my recipe box.
3

medium sweet onions
2 1⁄2 medium green peppers

10

hearts celery (I estimated 8 whole stalks, but only had hearts)

8 -10

medium carrots (6 large would be enough)

8

medium sized potatoes (maybe just 4-5 larger Idaho baking potatoes?)

10 -12

garlic cloves

4

quarts chicken stock (2 from boxed broth, 2 from concentrate)

2

(28 ounce) cans tomatoes, 28 oz can and (I used "Generic" Safeway Diced Petite, (1, 1)

1

cup of chopped parsley
white pepper (2 tablespoons total?)
black pepper (1.5 or 2 tablespoons?)
salt (1.5 tablespoon?, and then salted to taste at end)

2

lbs ditalini, as needed when serving (or stubby pasta of choice)
In a large stockpot (16 quart minimum / 20 quart recommended) heat olive oil under fairly low to medium heat.
"Sweat" onion, celery, green pepper and some salt (to draw off moisture) for perhaps 30 minutes -- this is lower than browning, and makes the veggies somewhat translucent. I covered, and mixed every few minutes to prevent browning.
Add carrots, garlic, some white pepper and some black pepper, and continue to heat under "sweat" conditions while mixing now and then.
Add chicken stock, chicken breasts, tomatoes and potatoes -- and of course some more white pepper and black pepper.
Cover and simmer on low heat for 1.5 to 2 hours (or use crock pot?).
Remove chicken and let cool and stand to shred.
Add chopped parsley and return the shredded chicken to the soup.
Salt to taste at this point, and add more white and black pepper if your tongue is not twitching a bit when you sample. ;-).
Simmer while cooking ditalini (or other stubby pasta).
Serve soup over cooked pasta to taste.
Note: Like many soups, this may be better made the day before and then served when needed. We will freeze some for ready-made meals and I think it will work out well.