Carolyn's Meatballs in Lemon Sauce
Leslie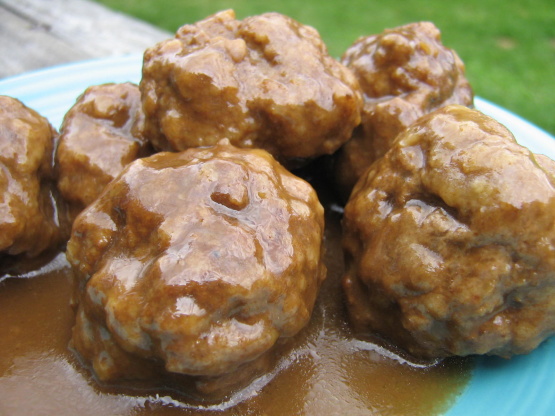 This recipe given to me by my mom over 20 years ago is not the usual cream-lemon sauce, but is a beef based sauce with a slight tangy flavor that compliments the meatballs and goes well with steamed white rice.

I don't usually write a review for a recipe that I make significant changes to, but the result was so good that I just had to share. The lemon sauce inspired me to give it a Mediterranean twist, so I started with ground lamb. I added some minced garlic, dried marjoram and the freshly-grated zest of a lemon. Then, the meatballs went into chicken broth. I thickened the sauce with the flour and added all the juice from the lemon. So good! Besides rice, you could also serve this with couscous, noodles, or even potatoes.<br/><br/>I have to say, I'd never poached meatballs before and was a little nervous. Not to worry. It's GENIUS! No constant turning, no splattered grease on the stove, no heating up the oven...Why haven't I heard of this before now?<br/><br/>Thanks, bshemyshua, for posting. Sorry I didn't follow it exactly, but it's a great recipe and it's been saved in my recipe box.
Combine beaten egg, ground beef, bread crumbs, salt and pepper in a large bowl and form into 24 large meatballs.
Bring beef broth to a boil, then add meatballs. Lower heat and poach gently for 15 minutes.
Whisk to smooth 3 TBLS. flour and 1/2 cup of water.
Remove meatballs to a heated dish and skim any fat from broth.
Slowly stir flour mixture in to simmering broth and stir with a whisk until sauce thickens.(sauce will be thin).
Add lemon juice to sauce and return meatballs to the sauce. Simmer 5 minutes before serving.