Carolyn's Favorite Hot Wings
2Bleu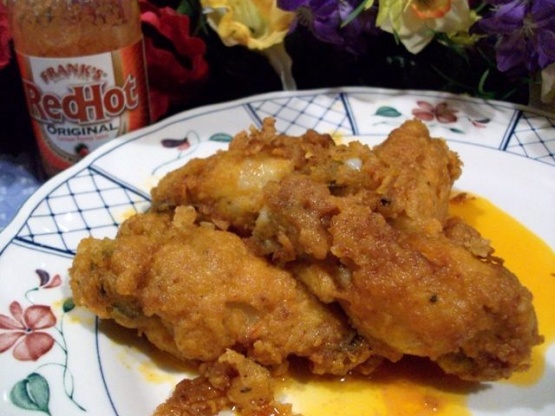 Someone asked me the other day how I made hot wings. Didn't have a printed recipe, just always did the same sort of stuff. Had to sit down and work it out. Here's the recipe. Hope you enjoy it as much as I do. Note that I put the minimum marinating time in with the prep time.

Ok I may be the first to review these but I'm sure I won't be the last. MG, these are out of this world! I have tried many hot wing recipes and was always disappointed, but not in this case. I made these last night as kind of an appie dinner menu. Followed the directions exactly. It was just the 3 of us and all were eaten! I liked that they are still crisp and not soggy. DH kept repeating, these are great. His only comment was he wished they were hotter but that was my fault as I had 4lbs of wings and didn't change the recipe as I wasn't sure so next time I will up the sauce a little. I wish I had left overs!!! Fabulous MG!
3

lbs chicken wings
1⁄2 cup frank hot sauce or 1⁄2 cup Crystal hot sauce

1

cup flour
cajun seasoning
oil (for deep frying)
1⁄2 cup frank hot sauce or 1⁄2 cup Crystal hot sauce
1⁄2 cup butter
ranch dressing or blue cheese dressing
Cut wings into pieces discarding tips.
Wash and pat dry with paper towels.
Place pieces into a dish or a large baggie, add ½ C hot sauce and seal.
Marinate at least 30 minutes or overnight is good too.
Heat oil in deep fryer to 350°.
Place flour, salt, pepper and cajun seasoning in a large baggie.
Drain wings but do not pat dry.
Add wings a few at a time to baggie, shaking to cover, then remove.
Continue until all pieces are well coated with the flour mixture.
Make up more if you need it.
Discard the bag.
Slowly add 1/2 of the wing pieces to hot oil.
Fry until golden brown.
Remove and drain on paper towel.
Cook remaining wings and drain.
In the meantime, melt butter in microwave.
Add remaining ½ C hot sauce.
Toss fried wings in sauce mixture and serve with your choice of Ranch or Blue Cheese dressing and celery sticks.