Carolyn's Apple Pudding Cake
PaulaG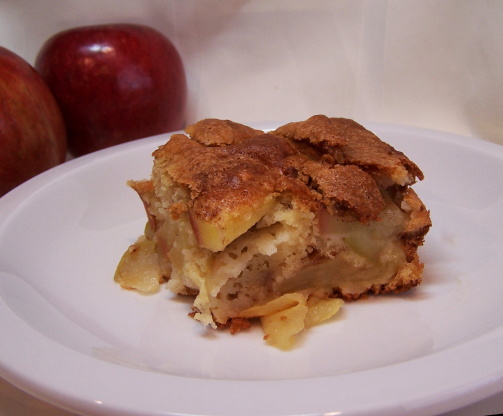 Is there anything nicer than the smell of apples and cinnamon? This is such a comforting dessert. Easy to make and low in fat too. You probably already have everything at hand. A good friend gave this to me many moons ago. I believe she got it from a women's group in Meaford Ontario. This is also terrific baked in individual ramekins or onion soup bowls. For a change of pace, try adding raisins or whole cranberries to the apples prior to pouring on the batter.
Top Review by PaulaG
This is packed full of tender, lightly sweet apples. I used a combination of apples to include 1 granny smith. The brown sugar was Splenda Brown Sugar Blend and the white sugar in the batter was 1/2 Splenda and 1/2 sugar. The only thing I would change would be to add a little more milk to the batter as it was a little thick and I had some trouble getting it to pour over the apples. The addition of the water to the apples is essential to ensure they cook properly. This was served warm topped with vanilla bean ice cream.
Preheat oven to 350*.
Slice apples, with or without the peel, to fill a casserole dish.
Sprinkle with brown sugar, cinnamon and water.
In a medium bowl, mix flour, white sugar, baking soda, baking powder and salt. Set aside.
In a small bowl or shaker, combine vanilla, egg, melted shortening and milk.
Add to the flour mixture and beat until smooth, then pour over the apples.
If desired, sprinkle with sugar cinnamon.
Bake for 1 hour or until golden.
Serve warm with a dollop of whipped cream.