Carol's Wisconsin Beer Cheese Soup
luvcookn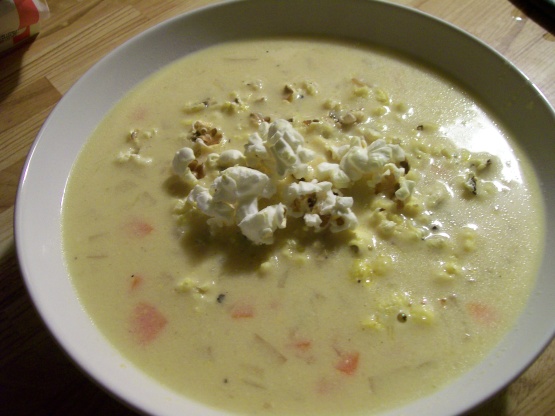 I'm a cheese-a-holic, so this is made a lot at my house and used in many recipes especially my chicken pot pie #273291

very very tasty and easy! I misread the 1 Tbsp butter, used 1 stick of butter instead, that made it very buttery, but still very good. I will make it again.
Melt the butter in a large soup pot. Add carrot, onion, garlic and saute.
untill tender.
Add beer, chicken broth and worcestershire sauce, bring to a boil and cook.
for a couple of minutes.
Lower the heat and simmer for 10 minutes.
Add the half and half and the cheese to the soup, simmer uncovered until the cheese melts.
Mix the flour (or cornstarch) and water together, add to the soup stirring constantly until the soup is thickened (a few minutes).
Sounds a bit strange, but this is great topped with popped popcorn.
Broccoli may be substituted for the carrot.