Mo F.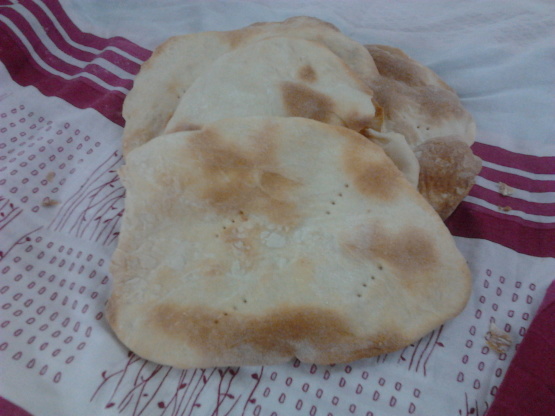 A quick recipe for tasty pita.

Top Review by foxjen
if yoy substitute 1/2 cup cake flour for regular flour it will rise higher, plus if you heat your oven to its highest temp. and use a stone; it will cook in 3 to 4 min and doesn't have to be turned.
Combine first four ingredients in a large bowl.
Beat well about 1 minute.
Then mix in the remaining flour, using just enough to make a soft, sticky dough.
Turn out on floured board and continue to knead for 5 minutes.
Divide into 8 balls.
Roll out each one to about 1/4 inch thick and 6 inches in diameter.
Place on very lightly greased cookie sheet sprinkled with cornmeal (although cornmeal is really not necessary if you don't have it).
Let rise in warm place for 25-35 minutes .
Bake at 450 for 4 min, and then turn over for 4 more minutes or until lightly browned.
Wrap immediately in a dishtowel for 3 or 4 minutes.