Carolina Veranda Lemonade (Alcoholic)
Jubes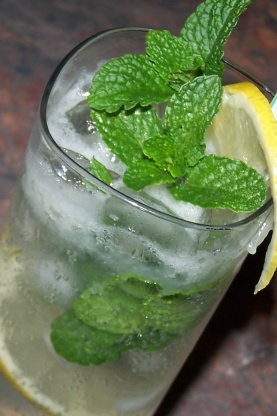 This is a great summer party beverage! Perfect for sitting around the veranda with guests. Pleasing enough for all different tastes, including those who do not drink. Pairs wonderfully with a backyard barbecue. The idea behind the drink was a quick Mojito for a crowd, without all the work. If you want to make a pitcher change the servings to 6.

Thanks I used this this weekend! It was July 4th and I added blueberries and strawberries for a festive twist! It was a big hit. I bet it would be wonderful with other variations of lemonade as well.
Add rum, lemonade and lemon juice to a glass filled about 1/2 way with ice and stir.
Sink lemon slice and whole sprig of mint in glass and stir to infuse a light mint taste.
Add more ice to bring drink to the rim of glass if needed. Enjoy!