Bayhill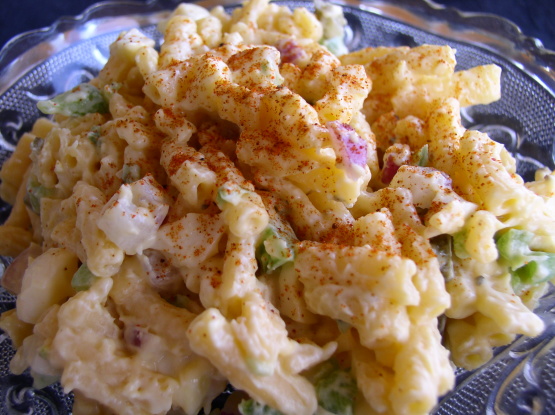 This recipe comes from kraftfoods.com. This salad is so easy and can be increased as needed to serve many. This is great for potlucks or when cooking for a crowd. The original recipe calls for sandwich spread; however, that is very expensive and I use the alternative of Miracle Whip Salad Dressing and chopped sweet pickles.
Delicious! Using packaged mac and cheese makes this yummy macaroni salad quick and easy to make. The bell pepper, onion, and sweet pickle really add to the flavor of this salad. We like our macaroni salad a little on the sweeter side, so I added some sweet pickle juice along with the sweet pickle. This salad will be a regular at my house. **Made for Culinary Quest - Suitcase Gourmets**
Boil the macaroni, drain thoroughly.
To the macaroni add the butter, milk and cheese packet mixing well.
Add the Miracle Whip, eggs, pepper, onion, sweet pickles and black pepper; mix lightly.
Sprinkle with paprika, cover and chill several hours or overnight.