Carolina Buttermilk Biscuits (And/Or Southern Shortcake)
Bonnie G 2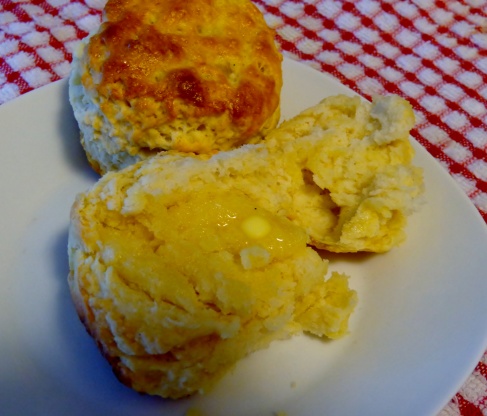 There is nothing better then the smell of Southern biscuits baking in the kitchen. When they hit the table piping hot they are sure to disappear as quickly as they appeared. This recipe makes an excellent base for Strawberry Shortcake! Just increase the sugar to 2 Tablespoons (optional) and whip up some cream with a dash of vanilla extract and slice some fresh strawberries.... and Enjoy!

These are pretty good! I made the recipe exactly as directed. They were not the fluffiest I've ever eaten, but they are the fluffiest I have ever made! This is a start to getting my dream fluffy biscuits.

I also want to add that these make the best dumplings ever!!! Just make the biscuit dough as directed, drop into your soup and cook through!!! Thank you NcMysteryShopper!
Preheat the oven to 500°. In a bowl, sift the flour with the baking powder, sugar, baking soda and salt. Work the butter or lard in until the mixture resembles coarse meal. Add the buttermilk and stir until the dough forms a ball.
Turn the dough out onto a lightly floured surface and fold it over onto itself 10 times. Pat the dough out to an 8-inch square. Using a 2 1/2-inch round cutter, stamp out 12 biscuits; reroll the scraps and stamp out more biscuits.
Arrange the biscuits on a baking sheet and bake in the center of the oven for 8 minutes, or until golden. Serve hot.