Carob Zucchini Nut Bread (Vegan)
Annacia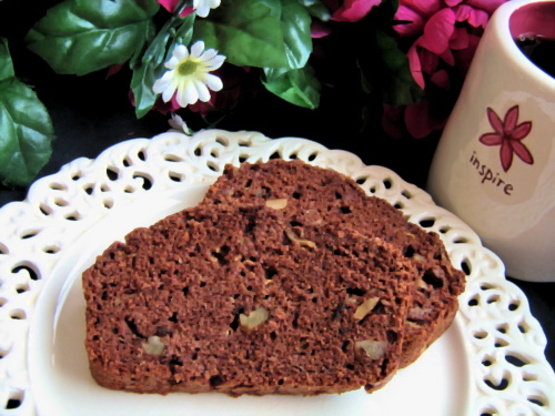 This was put together as a combination of several recipies. Carob is a great healthy replacement for chocolate. It makes a great healthy desert for my family. We hope you enjoy it.

As Annacia said, this is a delicious bread and unlike many baked goods, came out beautifully even though I made a few changes. I used only 1/4 cup of oil, with 1/2 cup applesauce, and 1/2 cup of each of the sugars. I used ground flaxseed with water for the egg substitute, which I think helped it to come out as light as it did. I also used whole wheat pastry flour (a sort of compromise between the all-purpose and ww!). Finally, I baked it in one big 8-by-13 pan and... well, it's wonderful. Will definitely be my zucchini bread recipe from now on! Thanks for posting!
Preheat oven to 35o F.
In a large mixing bowl cream egg replacers, oil, sugar, cocnut milk, and vanilla.
Mix in zucchini and walnuts.
Combine remaining ingredients, stirring until well mixed.
Pour contents into two well greased (I use cooking spray) 8X4X3 inch bread pans.
Bake for 1 hour, Enjoy!