mliss29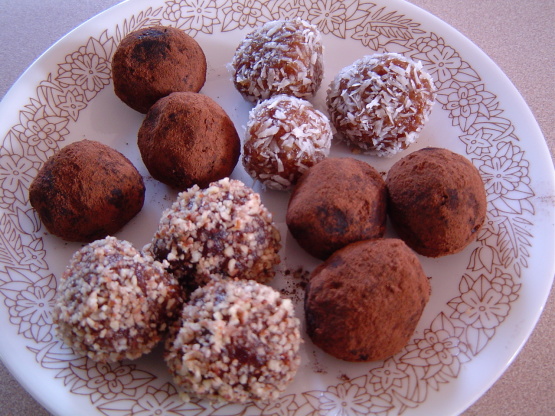 A raw food vegan cake recipe which I have posted out of interest and have never tried.

Awesome! I just used walnuts & pecan straight out of the package. (Didn't soak or dehydrate. From my reading, I think it's supposed to make the nuts crispier. But I thought it seemed like too much effort. lol. I'm lazy.) I thought maybe the carob coating would be too bitter for my young'uns, so I made a few with coconut and a few with ground pecans. But 3-year-old son gobbled them up! I had to tell him to slow down so there'd be some left for taking a picture. Oh! I tried with and without oiled hands and they went fine without that. Thank you! Reviewed for My-3-Chefs.
Place pecans, walnuts, and dates in food processor and process until the mixture is ground fine.
Add honey, salt, vanilla, and orange zest to the nut and date mixture, and process until finely chopped.
Oil hands and roll mixture into quarter size balls.
Place carob powder on a plate and roll the balls in powder 2 times.