rpgaymer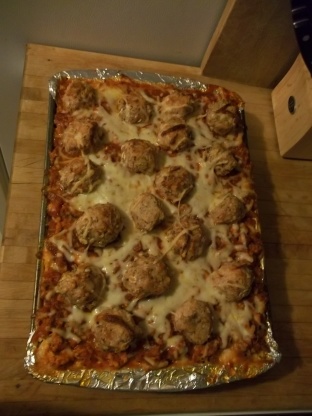 This one's for meat lovers especially- It's filled with ground beef, Italian sausage, pepperoni, and meatballs. I actually hardly ever eat this myself, but I make it for my dad whenever he comes to visit. He's an insanely picky eater, but he loves this lasagna and goes through the whole pan in a matter of days. He is healthy for his age, so I don't feel bad making this for him... but I do sometimes sub lean ground chicken or turkey in place of the ground beef, and I've started making my own healthier Italian sausage to use in this recipe as well. He's never been able to tell the difference ;P

Baked this lasagna for our Christmas Eve celebration with our family. Received a thumbs up from all the kids and adults. Served with a salad, garlic bread and later a delicious cheesecake. This made a wonderful meal. Made for PRMR, December, 2013.
14.79

ml olive oil

907.18

g lean ground beef, divided

453.59

g hot Italian sausage, sliced

1

onion, chopped

4

garlic cloves, crushed

3

(1275.72 g) can tomato sauce

29.58

ml brown sugar

4.92

ml fennel seed, divided

4.92

ml dry basil, divided

4.92

ml dried thyme, divided

4.92

ml dry oregano, divided

9.85

ml salt, divided

4.92

ml black pepper, divided

29.58

ml dried parsley, divided

2

eggs

118.29

ml oatmeal

354.88

ml parmesan cheese, shredded

907.18

g ricotta cheese

2.46

ml ground nutmeg

226.79-453.59

g mozzarella cheese, shredded

303.90

g pepperoni, chopped into small pieces

18

lasagna noodles
Preheat oven to 350°F.
In a heavy pan, heat the olive oil over medium heat. Add the onion, garlic, half of the ground meat, and the Italian sausage. Brown for 10 minutes.
Drain the meat mixture, if needed. Add the tomato sauce, brown sugar, 1 tablespoon parsley, and 1/2 teaspoon each of the fennel seed, basil, thyme, oregano, black pepper and salt. Gently stir, cover, and let simmer over low heat for 1 hour.
While the sauce is cooking, prepare the meatballs, ricotta cheese mixture, and lasagna noodles. First, beat 1 egg in a large bowl. Add the oatmeal, 1/2 cup of Parmasan, and the rest of the ground meat, black pepper, fennel seed, basil, thyme, oregano, and salt. Combine well.
Roll the meat into balls that are about 1 inch in diameter. Place them on a sprayed pan and bake for 20 minutes, turning the meatballs over halfway through the cooking time.
Put the ricotta cheese in another bowl. Add the other egg, nutmeg, and rest of parsley. Combine well and set aside.
Now just soak the lasagna noodles in a large pan filled with very hot water for at least 15 minutes.
Once the sauce is cooked, construct the lasagna in a deep 9x3-inch pan. First, spread 2 cups of the sauce on the bottom of the pan. Lay 6 noodles down. Spread half of the ricotta over the noodles, then sprinkle that with 1/3 of the mozzeralla and parmasan. Top that with half of the pepperoni.
Make another layer in the same way, starting with 2 cups of sauce. After that, lay down the rest of the lasagna noodles on top.
Mix in the cooked meatballs with the rest of the sauce, and spread on top of the lasagna. Top with rest of cheese.
Cover with foil, and bake at 350F for 25 minutes. Remove the foil, then bake for 25 minutes. Remove, then let cool for at least 15 minutes before serving.