Carnitas, Simple but Amazing!
tasmith1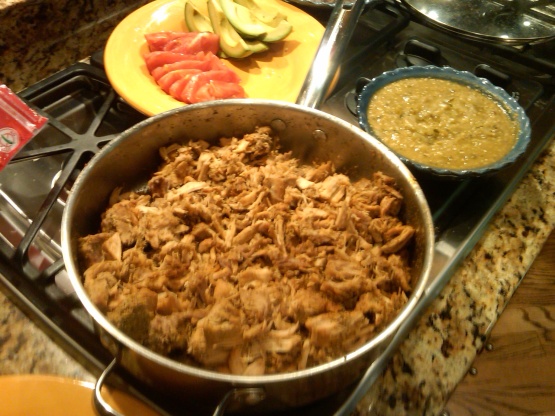 This is a simple yet amazingly delicious recipe. Yes it's a lot like others posted on the site, yet this is the simplest and if cooked according to the directions you'll have everyone raving about it! Everyone will want to take some leftovers.

Love this, especially with the sticky spanish rice you posted! Good stuff!
Cut the Pork crosswise into at least thirds. Combine and mix Pork, water, Orange Juice, Garlic, Salt and Orange Zest in a Deep very large skillet or a Dutch Oven. Bring to a boil. Reduce heat, cover and Simmer for at least 1 hr and 45 minutes or until the pork is so tender that it is falling apart. Stir and add more water as necessary to keep the pork partially submerged, although I've never had to do this.
Transfer to a skillet if you used a Dutch Oven. You may need to drain off some of the liquid at this point. You will want to break up the Pork into small pieces and boil off the remaining liquid until the pork starts to brown and get crispy edges.
Serve with Tomatillo Salsa (Recipe #97531 is fantastic!), Corn Tortillas and whatever other fixings you like.