Carnitas a La Whole Foods
Parsley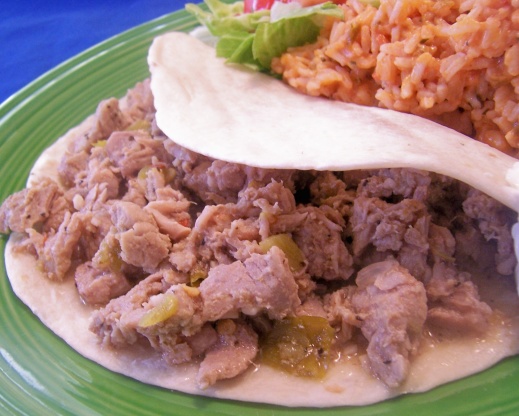 This Pork Carnitas recipe may be the same they serve in their hot dinner bar, and that is FABULOUS. Usually served on corn tortillas with pico de gallo, I hear. I usually eat it with roasted garlic mashed potatoes.

I lived in Mexico for nine years, and this is pretty authentic tasting. This is a family favorite, and I make it regularly. It can be a bit salty, but not if you use low sodium both. It is very versatile, classic soft corn tortilla tacos with salsa, lime and cilantro one night, freeze the rest for another night, and make smothered burros topped with green salsa, sour cream and cheese. SO GOOD!!
Preheat oven to 325 degrees Farenheit.
Stir pork pieces around in garlic, jalapeños, cumin, salt and pepper, then saute in olive oil at medium-high until lightly browned on all sides (about 10 minutes).
Transfer to roasting pan and add juices and chicken stock, cover tightly to retain juices while cooking, and bake for 2-2.5 hours, until meat is very tender. (If juices cook out, add more chicken stock.).
Allow to cool so pork absorbs remaining juices, pull apart with a fork.