vrvrvr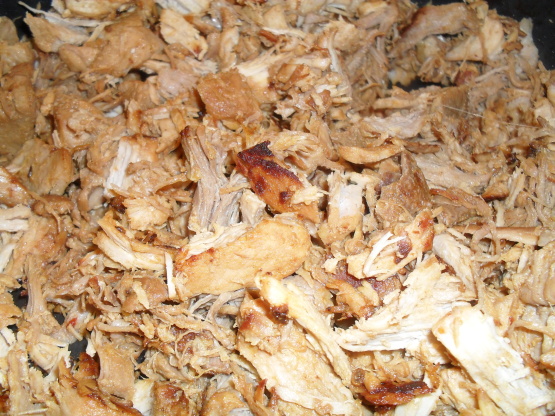 From Bon Appetit 2003. This is one that I didn't even put my own spin on. The orange juice, chipotle and rum are great flavor enhancers.

Wow! These are spicy! I used one can of chipotle peppers in adobo, and I was breathing fire! We ate the pork over cilantro lime rice and black beans, topped with cheese, tomatoes, and sour cream. Yum!
Cut pork ribs into thirds. Remove any large portions of fat.
Combine pork plus the next five ingredients to a heavy skillet. I used a deep cast iron skillet that works great for the end product. Bring to a boil, reduce to simmer then cover for 1 ¾ hours. Remove cover and reduce liquid by half.
Add the dark rum and continue reducing until all of the liquid has evaporated, stirring occasionally. After the liquid is gone then the pork will start to stick. This is the good part. Continue to stir for another 10 to 15 minutes. The meat will fall apart and brown.
And that's it. Carnitas. Very good and flavorful.