CarolAT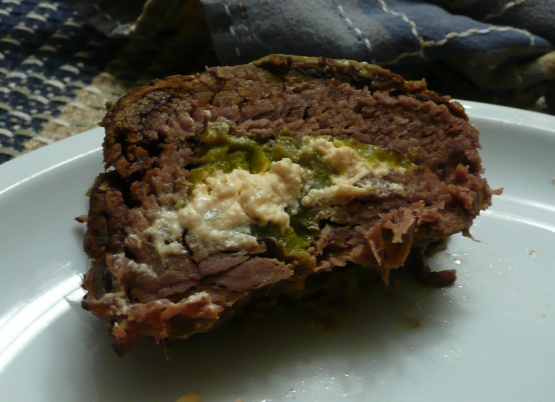 This is an easy southwest style flank steak recipe using your crock-pot. I served this at a dinner party for friends and the flank steak came out very tender and flavorful. It was a hit. I found this recipe in my Rival Crock Pot recipe book.

Made this for the second time tonight. It was delicious and really spicy since we put jalapenos inside. Made a sauce by blending the juices with sour cream to mitigate the heat and xanthan gum to thicken without adding carbs. Thanks for this!
Slit whole chilies open on one side with sharp knife; stuff with slices of cream cheese.
Open steak flat on a sheet of waxed paper. Score steak and turn over. Lay stuffed chilies across unscored side of steak. Roll up and tie with kitchen string.
Place steak in crock-pot slow cooker. Pour salsa verde over steak. Cover and cook on low 6 to 8 hours or on high 3 to 4 hours or until meat is fork tender.
Remove steak and cut into 6 pieces. Serve with sauce from crock-pot.