Bergy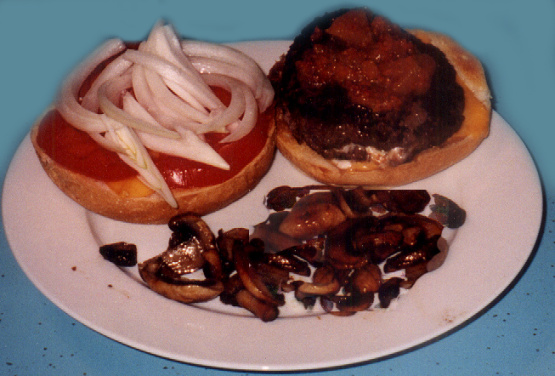 I couldn't find quite the right burger for tonight so I made this one up and thought it turned out rather well -Hope you try it. I did not include possible garnishs' to the ingredient list because it is up to you what you enjoy on a burger. Avocado would go will on this one. I added 2 cheese slices, raw sweet onion sliced 1/4" thick, sliced tomatoes and my choice of Salsa was Habanero/ Mango Salsa. I used "El Mexicano" prepared Carne Asado powder however there are recipes on Zaar if you wish to make your own spice powder. For this burger I like a full 6 ozs of meat. Make as many burgers as you wish just keep repeating the recipe
Make 2- 3 oz meat patties, sprinkle with salt& pepper Sprinkle with the Carne Asada, add the cottage cheese in the center of one patty, top with the other patty and carefully seal the edges.
Refrigerate for apprx 1 hour, covered Spray a fry pan with pam or olive oil& turn the heat to high.
Add the patty and brown on one side for 3 minutes, don't let it burn.
Turn the heat to medium, flip the patty and cover the pan, continue cooking for 3 minutes.
Add mushrooms, replace lid, turn heat to medium low.
Continue cooking until the mushrooms are golden and the burger is cooked through apprx 5 more minutes.
Meanwhile toast one side of each half of the bun, butter it if you wish.
Top the burger with the salsa. Serve the mushrooms on the burger or on the side, Add whatever garnish you want on the burger and enjoy.