Carmelized Mango Soup With Poppy Seed Rice Pudding
Satyne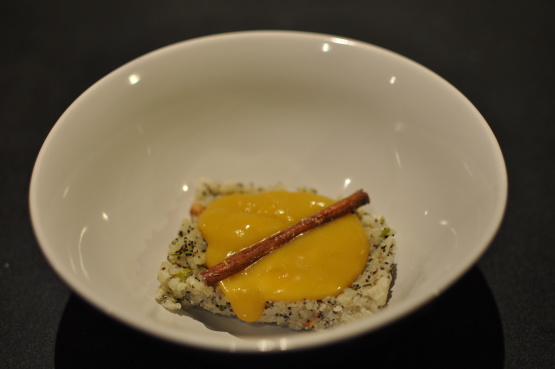 I love poppy desserts and this is so fun to make and serve, and of course yummy! From my Marcus Samuelsson cookbook!

Top Review by Satyne
Wow, this was amazing, both parts would be wonderful on their own and together, just wow! I must admit, I cheated and used ground ginger which I then couldn't remove, but it was great. I also only used juice of 2 limes since I'm not wild about it. Made for Zaar World Tour 8 and will definately make again. Thank you for such a delicious dessert.
MANGO SOUP: melt the butter in a large saute pan over med heat, then add mangoes, sugar, ginger, cardamom, and cinnamon stick, sauteing until the mangoes begin to caramelize (about 7 minutes)
Pour in the orange juice and white wine and bring to a simmer, then reduce heat to low and simmer for 10 minutes, then remove from heat and cool.
Remove the ginger, cardamom, and cinnamon stick and transfer mixture to blender, then puree until smooth, then add lime juice. Refrigerate until chilled.
RICE PUDDING: line a 9x13 baking dish with waxed paper and set aside.
Melt the butter in a large saute pan over med heat. With a sharp knife, split the vanilla beans lengthwise, then use the back of a knife to scrape out the seeds. Add the seeds, pods, cinnamon stick, rice, poppy, sugar and lemongrass to the pan and saute for 2 minutes or until fragrant.
Pour in the milk and coconut milk, bring to a simmer and simmer for 5 minutes. Cover, reduce heat to low, and let simmer for 30 minutes or until most of the liquid is absorbed and the rice is very tender. Discard the cinnamon and vanilla pod.
Stir in the mint leaves and lime zest, then spread mixture in the prepared baking dish. Cover with plastic wrap and refrigerate until chilled.
TO SERVE: Using a sharp knife, cut the rice pudding into 4 inch squares. Place a square in each of six shallow bowls, then ladle the soup over the pudding and serve immediately!