Carmela's Chicken Rigatoni (Copycat Romano's Macaroni Grill)
JenDan72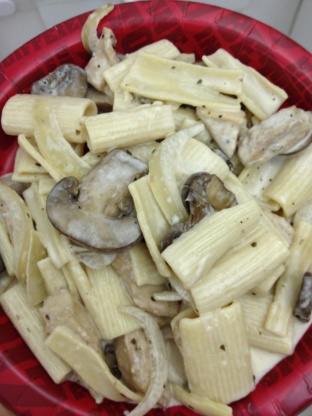 This is the actual Macaroni Grill recipe for Carmela's Chicken Rigatoni. At home, I use a combination of olive oil (2 T) and butter (4T) instead of butter flavored oil (less overall as well). In addition, I use Kittencal's recipe for caramelized onions http://www.food.com/recipe/kittencals-caramelized-onions-89007.

We love this recipe! I make only a few changes based on my experience with cooking this several times already. The first time I made it, I thought there was too much oil/butter so on subsequent occasions, I've reduced the "6 oz. butter flavored oil" to 2 oz. butter and 2 oz. extra virgin olive oil. The oil becomes a lot more noticeable with leftovers so you could reduce it even more if you don't plan on eating it all the day you make it. I only use 16 oz. rigatoni since that's the standard size package at the grocery store, and really, that is a lot. It's dinner for 4 plus leftovers for lunch for 2 people for 2 days. I also don't "precook" the pasta. I just boil it right before I start the first two steps of this recipe and I turn it off a minute or two before it's al dente so it can sit in the hot water and finish cooking until I'm ready to put it in with the rest of the ingredients. Other than these minor changes, I follow the recipe exactly. I use Rrs Caramelized Onions (recipe #209735) and Marsala cooking wine for this dish and it tastes great! The last time I only had about 4 oz. Marsala so I filled in with 2 oz. Cooking Sherry and it was great then too. As a time saver, I use the frozen grilled chicken strips from Costco that I weigh out on my kitchen scale for 12 oz. and I defrost in the microwave for about 4 minutes before cutting up and adding to the sautee. I've used both fresh and canned mushrooms and they both work great. The recipe doesn't specify if the basil should be fresh or dried, but I've used the full 2 tsp dried and I don't think it's too much. I like basil though so you might want to experiment with that. The only real time consuming part of this recipe is the caramelized onions, which can be made ahead of course, so this can be a fast, easy and very tasty weeknight dish with a little planning ahead. Thanks so much for sharing this WONDERFUL recipe!
In a hot sauté pan add butter flavored oil, mushrooms, chicken, basil, caramelized onions, salt and pepper and sauté for approximately 60 to 90 seconds.
Add the wine and sauté for 60 seconds. Add the heavy cream and bring to a boil over high heat. Dip pre-cooked pasta in boiling water for 10 seconds, drain thoroughly.
Put pasta in sauté pan and sauté until well incorporated. Toss briefly over fire, add parmesan cheese and continue to toss until cheese is completely incorporated.
Transfer to plate, garnish with parsley.